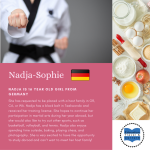 (Posted 5/17/2020 - click on image to enlarge) As we look forward to the return to life as we know it, students from around the world are excited to spend an academic year in the U.S. as high school exchange students. One such student is Nadja, a 16 year old chess player from Germany. In addition to chess, Nadja holds a black belt in tae kwondo and is a licensed trainer. She is interested in many sports and also loves animals. Nadja speaks English and has insurance and spending money to cover her expenses. She will arrive in August about 10 days before school begins so she can adjust to the time difference and get acquainted with her host family.
To come, Nadja seeks a caring and active family to open their home and hearts to her. Host families are volunteers who provide a bed, three meals a day, transportation when needed and exposure to typical American family life. It is that easy! Couples with children of any age and those without children at home are encouraged to host.
Contact: Glenna Tooman, Education Travel & Culture (ETC) - Idaho, Montana, Wyoming, E. Washington Manager. Ph: 208-571-8490, Email: kboone@edutrav.org. A Non-Profit Organization for Student Exchange, www.edutrav.org.
(Posted 9/22/2019) Ed Brown is running a chess program for a youth detention center in Washington, and is looking for some volunteers to grow the program.
In his words, "As for the program itís a new/growing, bi monthly chess program on Wednesdays which lasts an hour and a half. Youíd be working with a maximum of 8 young people due to the detention center structure. There is room for creativity in how you run the program however Iíve made chess puzzles (particularly mate in 2) and a ladder ranking system mainstays. Both are very easy to manage. Iím looking for intermediate and above chess players with a passion for mentoring. Bonus points for people of color, people with experience serving folks with high levels of trauma and people with advanced chess ability. My goal is to move to a weekly chess program and have a pool of volunteers that can grab shifts as they please. So you would not to have to attend every week by any means.
To join the volunteer pool Iíd like to meet up with anyone thatís interested to tell them more about the program and see if itís a good fit. From there theyíd have to complete an orientation with the detention center and boom, theyíre ready to play some chess with awesome kids/teens! Iíll be providing support on the programming and chess skills as needed. Any questions or interested folks should email me at eestesbrown22@gmail.com."