For NWC magazine contents and PDF files, see the magazine back issues page.
Holiday Weekend! – There were no local chess tournaments scheduled for Christmas weekend; however the 20th annual NORTH AMERICAN OPEN was held Dec 26-29 at Bally's Las Vegas, NV. Several Oregon and Washington players competed and did well. In the U2100 section, Roland Feng (3rd) and Megan Lee (10th) both finished in the top 10. Also winning substantial class prizes were Gordon L Higbie and James M Colasurdo in the U1700 section. Congratulations! Happy Holidays from Northwest Chess!

The January Northwest Chess magazine has been mailed! It's a 32-page issue with "Letters to Ernst," a report on the World Senior Championships by Michael Schemm, "Games Corner" by Charles Schulien, "Seattle Sluggers Season Sign-off" by Alex Guo, "SCC at the 28th Western States Open" by Fred Kleist, and articles by Dana Muller and Harley Greninger.
Portland CC to turn 100! - The Portland Chess Club turns 100 years old in 2011, and is planning several activities to celebrate. One possibility is to have summer chess events in Pioneer Square. In addition, the club will award Grand Prix points in every tournament sponsored in 2011, starting with the Gresham Open and continuing until and including the 2012 Gresham Open. You will receive one Grand Prix point for every win and ˝ point for every draw in any PCC-sponsored tournament, including Quads, but not including Blitz. Prizes to be announced. For more information, contact Mike Janniro, phone 503-309-9244.
College Tournament! Reed College in Portland sent a team to the Pan Am tournament this December in Wisconsin. They'll have a report for NWC after the event. Best wishes for success!
K-12 Championships! As reported by Breck Haining in December 2010, "four players from the Seattle Chess Club played in the National K-12 Chess Championships in Florida this month. Marcell Szabo seized 4th place in the 4th grade tournament. Kyle Haining earned 13th place, and Noah Fields won 15th place, in the 5th grade tournament. Ethan Bashkansky captured 18th place in the 7th grade tournament. Kyle and Noah also played in the K-6 blitz tournament. Kyle won 3rd place; Noah got 12th place. Ethan's sister, Naomi, also did very well, winning 10th place in the 2nd grade tournament." Congratulations!
Gift Idea! 2011 Images of Chess calendar - see http://www.imagesofchess.com/.
Donations Wanted! The Sequoyah Middle School's special education department is looking for donations of chess sets and/or money to purchase basic tournament sets. The school, which is located in the Auburn-Federal Way area of Washington, uses games such as chess to help meet the needs of special education students. For more information, contact Cheryl Gustafson.

The December Northwest Chess magazine has been mailed! It's a 24-page issue with Ernst Rasmussen BDG Thematic report by Dennis McGuire, WCF President's Corner by Josh Sinanan, "Seattle Chess Club, Then and Now" by Roger Myers and Rusty Miller, "Dutch Treat: book reviews" by IM John Donaldson, "Games Corner" by Charles Schulien, "EG Short and the PCC" by Casey Bush, "Championship Training" by Corey Russell, and another GP update by Murlin! In addition to what's in the magazine, see photos of the Seattle Chess Club on Flickr by Rusty Miller.
Richard Stuart "Dick" Vandenburg (1930-2010), as reported in the Idaho Statesman. Dick passed away on November 7, 2010 due to complications from prostate cancer. Born in Seattle, Dick grew up in Boise and spent much of his life in Idaho, heading his own agricultural sales business. In addition to his extensive involvement in chess (winning six Idaho championships, fostering international correspondence chess, organizing tournaments and establishing Idaho Scholastic Chess), he was also a musician (performing with the Stanford Marching Band at the Rose Bowl in the 1950s), a skier and ski racing program organizer and an active member of the Rotary Club, among other activities! He is survived by his wife Jean and by a number of children and grandchildren.

Larry Evans (1932-2010) – The U.S. Chess Federation has announced the death on November 15, 2010 of GM Larry Evans, five-time U.S. chess champion and American chess legend, well-known for his chess journalism and instruction as well as for his top-level play. In recent years Evans lived in Reno, NV and participated in the two annual tournaments there, but back in 1968 he visited the Northwest, winning the Strawberry Open held in Marysville, WA with a perfect 9-0 score. See the story about that event (PDF). Photo: Larry Evans at 2008 National Open in Las Vegas, courtesy of Rusty Miller. | See GM Larry Evans in the Northwest, 1968-1969 as reported by Russell (Rusty) Miller, Vancouver WA, November 2010 following Evans' death (cover images included).
New Website!! Redesign of this website using Microsoft Expression Web software began on October 18, 2010, and all pages have the new design as of November 7, 2010. After that, we will look into adding new features such as an improved calendaring system. See the response form below to submit comments.
New Advertiser! – Welcome new NWC advertiser Chessbase USA, offering ChessBase 11 and related products. See their ad in the printed November magazine or in the "teaser" linked below.
BDG Games! – Game scores from the Ernst Rasmussen Blackmar-Diemer Gambit Tournament, held October 23, 2010 in Port Townsend, WA, are now available on the games page.
The November Northwest Chess magazine was mailed on 11/5. It's a 48-page special issue with a Bent Larsen Eulogy, a U.S. Open report, an original story entitled "Hapley's Project" by GM Yasser Seirawan, "Marcell: A New Kid on the Block" by Tibor Károlyi, a report on the Silverdale Beach Hotel Classic by Kris Dietsch, articles by Bill McGeary and Dana Muller, and the usual monthly GP update by Murlin Varner! See NWC_201011_opt.pdf (All pages except Seirawan story. To purchase a paper copy with the story, please contact NWC.)
Season's Over! Congratulations! With their match wins in weeks 9 and 10, the Seattle Sluggers (U.S. Chess League) made the USCL playoffs, facing the Arizona Scorpions on Wednesday, November 3. Unfortunately Arizona had draw odds and won the match on a 2-2 tie, but the Sluggers still made a nice comeback the second half of the season – see full schedule/results. See the Sluggers team page for more info and to make a donation.
Go Seniors! (And congratulations, again!) Multi-lingual Information is available about the World Senior Chess Championship, held October 26-November 6. U.S. participants included Jude Acers, Mike Schemm and GM Larry Kaufman. Kaufman finished in a four-way tie for first place with 8.5 out of 11 points, while "Mike Schemm of Seattle, rated 1991 USCF, turned in an excellent result with 7 points versus opposition averaging 2095 to tie for 23rd place," as reported by IM John Donaldson.

Lawn and Garden Chess by Michael Connell of Port Townsend, WA. According to Mike, "Come and play chess with a unique statuary version of the Lewis Chess Set. I created reusable molds to reproduce unlimited Garden Chess sets. Bring a friend or challenge a neighbor to a game at the Purple Victorian on Blaine St. in Port Townsend." See: Mike's photos on Picasa | Mike's website.
Discounts!! Three-year subscription discounts are now available to Northwest Chess!! (These include full OCF or WCF memberships as applicable to residents of Oregon and Washington.) Pay only $60 for three years (adult), $40 (junior) or $12 (additional family member w/o subscription). These favorable rates will only be in effect until March 2011, so act now even if your subscription doesn't expire that soon. New rates were available on the PayPal subscription page and on the PDF (mail-in) subscription form.
Northwest Chess Grand Prix standings for 2010 have been updated based on tournament results prior to 10/15. It's now official ... the 2010 and 2011 GP events are named in honor of the late Robert A. Karch.

The October Northwest Chess magazine has been mailed. It's a 32-page issue with an Oregon Open report and games, a Seattle Sluggers update and articles by Harley Greninger, Bill McGeary and Dana Muller. Also the usual monthly GP update by Murlin Varner!
Local junior featured by USCF – Kyle Haining, 10 years old and a member of the Seattle Chess Club, is featured on the cover of the October 2010 edition of Chess Life for Kids, published by the USCF, and in a two-page spread inside. He is shown on the cover along with the caption "Win, Draw, Learn!" This is from an essay Kyle wrote, which is printed in the magazine. Kyle learned from Carol Kleist, when he first started attending SCC, that there are three possible outcomes to chess: win, draw, and learn!
Statistics! If you're a USCF-rated player, you can get statistics on the USCF website showing your record vs. opponent's ratings. After you go into the "Players & Ratings" section and find your records, there should be a "Show Game Statistics" link, as well as a link for ratings history graphs.
Scholastic Chess Story! See "Mountlake Terrace custodian and chess coach retires" by Noah Haglund, writer for The Herald (Everett, WA).
Bent Larsen (1935-2010) – Danish chess Grandmaster Jřrgen Bent Larsen passed away in Buenos Aires on September 9, 2010 at the age of 75. Although probably best known for losing 0-6 to Bobby Fischer in the 1971 semi-final world championship candidates match, Larsen had many successes as a chess player, including winning the Danish championship six times.
See Larsen interview by Jude Acers as published in Dec 1968 and Jan 1969 issues of NWC.
See easier-to-read version in ChessCafe Skittles Room.
The September Northwest Chess magazine, mailed on 9/3, is a 24-page issue with a USCF Delegate Report, "Washington Championship Games" by Howard Chen, "Harmon Memorial Report" by Gary Dorfner, "Championship Training" by Corey Russell, "Ernst Rasmussen BDG Tournament" by Stephen Chase and articles by Harley Greninger, Bill McGeary and Dana Muller, and another GP update by Murlin Varner. Cover photo: August Piper by Philip Peterson.
2010 Washington Open games available – See the games page.
Seirawan photos! Photos by Rusty Miller of Yasser Seirawan's delayed 50th birthday party at Chess4Life in Bellevue! (Held Aug. 23 during first Seattle Sluggers match of the season.)
The August Northwest Chess magazine, previously mailed, is a 32-page issue with "Championship Training" by Corey Russell, "Games Corner" by Charles Schulien, "Stevenson Elementary at Nationals" by parents and Elliott Neff, "Rogers – Rompogren" by Bill Rogers and Ralph Dubisch, "Correspondence Chess" by Stephen Chase, "Book Review: Chess Duels" by Randy Kaech, articles by Harley Greninger, Bill McGeary and Dana Muller, and another GP update by Murlin Varner.
Video! Dr. Joseph Wagner (former chairman, USCF Senior Committee), "The Beauty of Chess" lecture from May 2010 covering many interesting subjects including chess art, chess sets, and historical chess masters. (224MB video file)
750th Issue! June marked the 750th issue of Northwest Chess magazine (including the early years when it was Washington Chess Letter). This special issue was delayed, and turned into a larger (48-page) combined June-July issue. It was printed and mailed before the end of June. See the press release.
Follow the games and results at the Canadian Youth Chess Championships in Ontario. See http://monroi.com/2010-cycc-games.html.
Russell Miller has identified a new chess books website, http://www.chessbookstore.com/. Rusty also gave four boxes of copies of Chess Life magazine to Cameron's Books and Magazines, Portland's Oldest Used Bookstore, 336 SW 3rd Ave, Portland, OR 97204. The years are 1960s to present with duplicates. See www.cameronsbooks.com for more information on the store.
New international student exchange host family opportunity posted – see NWC opportunity page.

In Memoriam – Northwest Chess regrets to announce the death of Cinthia McBride (1916-2010), Portland Chess Club member and former Oregon Women's Chess Champion. See the full obituary (PDF file). Cinthia also made a generous donation to Northwest Chess Knights a few years ago, which was greatly appreciated.
The Seattle Times ran a story and video about Roland Feng, a third-grader from Thurgood Marshall Elementary School in Seattle who recently won the national K-3 Championship. In the video, Roland plays 16 of his classmates simultaneously, winning all 16 games!
Seirawan Chess! As part of the revamped Seirawan Chess web site, FM Jack Yoos, one of the top S-chess players in Canada, is taking on the World, similar to the "Kasparov vs. the World" game a few years ago. The schedule will be roughly one move for each side each week. Jack's move will be posted on Sunday evening, with voters having until the following Saturday to respond. If you'd like to participate, see http://www.seirawanchess.com/world. Seirawan Chess is a chess variant in which each side introduces two extra pieces onto the board during the opening.
New Book! Yasser Seirawan also has a new book, Chess Duels: My Games with the World Champions. See the story on ChessBase news, or check with your favorite chess or book seller.
Chess master Jude Acers speaks about the Saints Super Bowl win on Open Sound New Orleans! (The story was actual posted in February, but just discovered by Rusty Miller.)
Chessboxing! Video story from The Seattle Times about this wild combination of blitz chess and boxing at the University of Washington!
"Evers" identified as Krasev – Current news reports indicate that "Jason Evers" is actually Doitchen Krasev of Bulgaria, which is very interesting in view of the recently completed world chess championship match in Sofia, Bulgaria (see below). Krasev also competed in chess tournaments under the name "Danny Kaiser" from 1995 to 1997 while living in Colorado, achieving a Class A rating.
Response to Evers case – In a story and video produced by KOHD TV in Bend, Oregon, Central Oregon Chess Club tournament director (and NWC Business Manager) Eric Holcomb responded to the unfortunate situation involving Jason Evers, a strong chess player and club member who has been charged with falsely assuming the identity of a boy killed in Ohio many years ago. In the interview, Eric noted that Jason is well respected in the club, and also discussed Jason's liking for the King's Gambit.
U.S. Champion! The U.S. Chess Championship was contested at the Chess Club and Scholastic Center of Saint Louis, May 13-25, 2010. This year's innovative championship format culminated in a "Final Four" quad from May 22-24, followed by a special playoff with draw odds on May 25. GM Gata Kamsky is the new U.S. champion, defeating GM Yuri Shulman in the playoff after the two players tied at 7 points (out of 10 rounds). See the story on the USCF website for more information and links.

Update! The May edition of Northwest Chess was delayed, but was mailed on 5/20.
Bellevue does it again! As reported in The Seattle Times, "Bellevue's Stevenson Elementary School chess team has once again hauled away an impressive pile of trophies from the National Elementary School Chess Championship, held earlier this month in Atlanta." See the full story online.
Anand defends championship! The FIDE world chess championship match between World Champion Vishy Anand and Challenger Veselin Topalov concluded on May 11 in Sofia, Bulgaria, with Anand winning the final game and the match by a score of 6.5-5.5. See the official match website (English version). The final game was a 56-move win for Anand as black in a complex tactical position that led to a winning endgame after Anand won Topalov's queen in exchange for a rook and knight.
U.S. Champion to move! The USCF reports that two-time U.S. Champion, GM Hikaru Nakamura, is relocating to Saint Louis from Seattle because of the support the Chess Club and Scholastic Center of Saint Louis has provided for American chess, particularly at the top level. See the story.
Exhibition of Chess Sets! International chess sets and individual playing pieces from the collection of the Maryhill Museum of Art will be on display in The Many Shapes of Chess exhibit, April 7-November 21 at the Washington State History Museum in Tacoma. See website (PDF file) for more information.
Updated! Yasser goes Dutch! – Perhaps some of you have been wondering what GM Yasser Seirawan has been up to since he moved to the Netherlands in 2004. Well, it turns out he has played some chess ... in the Dutch Team Championship! See the article courtesy of IM John Donaldson. Yasser, who turned 50 earlier this year, learned chess in a Seattle junior high school and honed his skills at the Last Exit on Brooklyn coffeehouse in the early 1970s. Thanks to Tim Kauppila for updating this story.
The April edition of Northwest Chess was delayed, but has now been printed and mailed. See mailing status page. Due to the lateness of this issue, we have made the full PDF file available without the usual 2-3 month waiting period.

In Memoriam – Northwest Chess regrets to announce the death of Robert A. Karch (1930-2010), longtime chess player and organizer in the state of Washington, including the Tacoma area. Karch was WCF member number 1000, and was awarded a life membership many years ago. He passed away on March 23, one day short of his 80th birthday. Photo (right): A younger Bob Karch at the 1975 U.S. Open in Lincoln, Nebraska. For another photo of Bob, see chess.com's "Greatest Chess Photos" page, and scroll down to photo #194. Also see more information on his memorial page on this (NWC) website. A military memorial service was held Monday, April 12, 2010 at Tahoma National Cemetery, Kent, WA.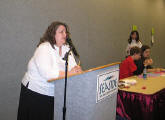 In Memoriam – Northwest Chess also regrets to announce the death of Kathryn "Kate" Taylor (1955-2010) of Oregon. As reported by chess master Chuck Schulien, "Kate Taylor, one of the truly blessed people in the world and chess community, passed away. She will be missed. Condolences to Mike, and the rest of the family. She was very active in the Oregon Scholastic community." She is listed on the USCF website as director for over 100 chess events. See her memorial page on this website for more information. Photo: Kate Taylor at the 2009 Oregon Scholastic Championships held in Seaside, OR.

The March edition of Northwest Chess was delayed, but has now been printed and mailed. Due to the lateness of this issue, we have made the full PDF file available without the usual 2-3 month waiting period. Included is an ad for the April 2-4 Far West Open in Reno, NV. If you've never played in Reno before, why not consider it this time? Or perhaps you'd like to visit British Columbia, Canada now that the Olympics are over. See the magazine or the TA page for information about April/May chess events in Victoria and Vancouver, BC.
Champions! The Washington State Chess Championship was contested Feb 6-7 and 13-15 at the Seattle Chess Club, and the Oregon State Chess Championship was contested the same dates in Portland. Congratulations to Oregon State chess champion Radu Roua, with an excellent 7 out of 9 score! Chuck Schulien finished second with 6.5 points. Also, congratulations to Washington State chess champion Howard Chen. Howard, who is still in high school, achieved a very impressive 8 out of 9 score in a field where no one was rated under 2000. See OR championship link for new photos! Games from the championships are available on the games page.

The February 2010 edition of Northwest Chess is a 32-page issue with stories about Kennedy (Kip) Poyser, the North American Open and the Washington Class Championships; Washington Junior Closed photos, articles from Bill McGeary, Harley Greninger and Dana Muller, and final 2009 Harmon Memorial Northwest Grand Prix standings.
See Harmon Memorial NW Chess Grand Prix 2009 final results. Checks were mailed to the winners on the 1st of February. Congratulations, and we'll see you again in 2010.
Rusty Miller reports that a "My best games" DVD from GM Yasser Seirawan is now available for purchase on ChessBase. Yasser, raised in Seattle, began playing chess in the summer of 1972 and by 1979 he had won the World Junior Championship and in January of 1980 earned his final GM norm.
Memorial – We regret to announce that Kennedy "Kip" Poyser, who edited 36 issues of Northwest Chess from November 1975 to October 1978, died suddenly of a heart attack in San Miguel de Allende, Mexico, on November 30, 2009. He was 64. See his son's blog. Also see the NWC editor page.
Many games from the 2009 WA Class Championships and WA Challenger's Cup are now available on the games page in PGN and ChessBase formats.
The January 2010 edition of Northwest Chess has been mailed, however some copies have a printing error (some pages duplicated, others missing). If your copy is printed/bound incorrectly, please send an e-mail to info@nwchess.com, and you can also download the full January magazine as a PDF file.
Historical list of Northwest Chess and Washington Chess Letter editors!