For information about NWC magazine contents, see the back issues page.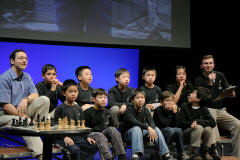 Earth vs. Space! – Congratulations to Bellevue's Stevenson Elementary Chess Team, which played the leading role in Earth's victory over Space (American astronaut Gregory Chamitoff) in a chess match which started Sep 28, 2008, and ended over a year later on December 16, 2009. Read the 2008 story here, and the final report on the USCF website.
Photo: The Stevenson Chess Team with coaches David Hendricks (right) and Elliott Neff (left) talk live with astronaut Greg Chamitoff. (Photo by Qiang Wang, father of Stevenson player Patrick Wang.)
All Juniors! Searchable database of junior players has over 14,000 players and is updated regularly during the scholastic chess season! (Also see http://whsca.org/.)
Life in Seattle! We're pleased to report that U.S. Chess Champion Hikaru Nakamura is now living in Seattle, and has apparently become a Huskies fan! See Lifestyles of a U.S. Champion at USCF. Hikaru played against some top grandmasters in the London Chess Classic, Dec. 8-15, finishing in the middle of the field, playing an important role in the outcome. According to a USCF report, "Magnus Carlsen continued his ascent to the chess summit with a narrow win of the London Chess Classic after Vladimir Kramnik's attempt to catch the young Norwegian in the final round was thwarted by Hikaru Nakamura."
All-America Team! Local master Michael Lee was one of four players chosen in the age 15 category for the 2010 All-America Chess Team sponsored by Trophies Plus. Team members were introduced at the 2009 National K-12/Collegiate Championship held in Dallas, Texas, Dec. 11-13.
See the full story on the USCF website.
WA Class Photos – Photographer Philip Peterson took a number of photos at the November 2009 Washington Class Championships, and needs some help identifying the players. You can view his photos at http://www.idonthaveone.org/sports/events/8/med/09057788.htm, and respond directly using the e-mail link if you can help with identification.
Updated! Special $100 prizes for women chess players have been announced (two already awarded), in honor of Russell Miller's mother. See the press release.
Awards! Congratulations to NWC editor Ralph Dubisch and to photographer Philip Peterson, winner of some recent awards from the Chess Journalists of America. The awards were: Best State Magazine, Best Editorial ("Editor's Desk: We Are the Champions," Ralph Dubisch – tied for first), Best Chess Photograph ("Viktors Pupols," Philip Peterson), and Honorable Mention for Chess Photograph ("de gib bang," Philip Peterson). You can see the list of winners and view the winning entries on the CJA website, and the back issues of NWC are also available on this website.
New/Old! See article "Seattleite wins chess title" from the February 22, 1972 Seattle Times about WA chess champion Mike Franett. Includes a photo of Franett playing Jim McCormick. Thanks to IM John Donaldson for finding this clip, and to the Seattle Times for granting permission to republish.
Kebu Chess in Seattle has released new chess software, Kebu Chess Puzzles '09, featuring tactics from real games. Ads appeared in NWC June to November 2009. (See the magazine section of this website for available back issues, or visit the Kebu Chess Software website.)
Oregon Chess Federation new official website: http://www.oregonchessfed.org/.
It's Big! Database of 4,618 chess games played in the Pacific Northwest between 1971 and 1997, supplied by IM John Donaldson. See the games page.
Chess Wedding! Spokane chess player John Julian married Rachel Wilton on August 8, 2009. According to the Spokane Chess Club website, "John was accompanied on the altar by his long-time chess buddies – best man Elston Cloy and groomsman Curt Collyer – both of whom looked stellar in their tuxedos." See the website for details and photos, including the chess-themed wedding cake!
Chess Night! On July 28, 2009 Oregon Chess Champion Carl Haessler of Lake Oswego, Oregon threw out the first pitch at the baseball game between the Portland Beavers and Las Vegas 51s. There was also a scholastic (K-12) quads tournament and a Chuck Schulien simultaneous exhibition that afternoon. See a report by Russell Miller, and see www.oscf.org for scholastic event information.
IM Norm! The Northwest's young FIDE Master, Michael Lee, was busy playing in the World Open, where he achieved an IM (International Master) Norm, along with FM Bindi Cheng of British Columbia. Lee will also be one of eight players competing in the U.S. Junior Closed, scheduled for July 13-16, 2009 in Milwaukee, Wisconsin. See USCF story about the Junior Closed.
The Champion! Congratulations to U.S. chess champion Hikaru Nakamura, who finished with three consecutive wins to score 7 out of 9 points, edging out IM Robert Hess and GM Alexander Onischuk (each at 6.5). The 2009 U.S. Chess Championship was held at the Chess Club and Scholastic Center of Saint Louis, May 7-17. The prize fund was over $135,000, including $40,000 to the winner. No one won the $64,000 Fischer Memorial "sweep prize" this year!
Eiseman Awards – Frank and Gerda Eiseman Awards were given at the April 30 Chess For Success dinner and auction to five people (left to right): Neil Dale, Lewis Richardson, Analyne Flanagan, Ian Osgood & Clay Kelleher. These five are longtime helpers of the Chess for Success after school chess programs and Oregon regional and state finals chess tournaments. In 1992 Frank Eiseman formed Chess for Success with help from Dick Roy and Phil Margolin. The program started with 9 schools and 200 children. More photos.
Landon Brownell (1989-2009) – Northwest Chess deeply regrets the death of NM Landon Brownell, originally from Corvallis, Oregon, in a car accident on April 21. Landon, who moved to Arizona at age 10, was instrumental in the Catalina Foothills High School chess team winning three national high school team titles in four years. See the story on the USCF website, also story in the Arizona Daily Star. A story about Landon, written by his father Roger Brownell, appears in the June issue of Northwest Chess. See the story and cover photo.
2008 Harmon Memorial Grand Prix prize checks were mailed 3/21, and full results are now available in the Grand Prix section of this website. Congratulations to all the winners!!
Special $100 prizes for women chess players at the 2009 WA Open and 2009 OR Open have been announced, in honor of Russell Miller's mother. See the press release.
Congratulations to Oregon State chess champion Carl Haessler!
The Oregon State Championship was contested Feb 14-16 and 21-22 at the Portland Chess Club.
Congratulations to Washington State chess champion FM Costin Cozianu! Costin was the highest rated played in the event (2566), but trailed Michael Lee by 1/2 point going into the final round. Costin pulled it out with a win over Howard Chen, while Michael lost to Katerine Rohonyan. Michael Lee and Curt Collyer (the winner of the 2008 Premier) tie for second place with 6.5. The 2009 Washington State Championship / Premier / Invitational chess tournaments were conducted as round-robins the weekends of February 7-8 and 14-15-16, 2009.
World Chess Challenge! Veselin Topalov of Bulgaria won his scheduled eight-game WCC match against Gata Kamsky (U.S.A.) by a score of 4.5-2.5, with a win in game 7 on 2/26. Topalov will play Viswanathan Anand (India) later this year for the world chess championship! See the WCC official match website for more information and game scores.
Complete interview with Devon Manber (an edited version appeared in the Feb. magazine). Includes a photo and two of Devon's chess games.
Games! Games from 2008 Washington Class Championship.
Another Fischer Article! – It's been over a year since Bobby Fischer passed away in Iceland, but the legend continues. Read the latest New York Times article on Fischer by columnist Michael Paterniti, focusing on his famous 1956 game against Donald Byrne.
Editorial! See the January 2009 editorial by NWC Editor Ralph Dubisch about the importance of tournament planning! There was not enough room for this editorial in the January magazine.
Washington State Chess Hall of Fame Committee Established (press release).