Reported by David Hendricks, Stevenson Chess Coach, WA Scholastic Chess Coordinator,
Rev. October 13, 2008
A PDF file version of this story is also available.
Earth is taking on Space in a chess match which started Sep 28th 2008, and Bellevue's Stevenson Elementary Chess Team is in the thick of it. ChessMagnetSchool.com, working with the USCF and NASA, has set up a chess match between astronaut Gregory Chamitoff, currently on the International Space Station, and Earth. Earth is being represented by 11 members of the Stevenson Elementary Chess team, who took the 2008 K-3 National Championship and the K-5 U900 National Championship last April in Pittsburgh, PA.
American astronaut Gregory Chamitoff, born in Montreal Canada, but raised in California, has a BS in Electrical Engineering, an MS in Aeronautical Engineering, a Ph.D in Aeronautics and Astronautics, and another MS in Planetary Geology (busy guy!). He has developed autonomous flight vehicles, written papers on spacecraft guidance, and was a crew member on the Aquarius undersea research habitat. He also does scuba diving, backpacking, flying, racquetball, Aikido, juggling, magic, and guitar. Talk about the right stuff! He is spending 6 months on the International Space Station, scheduled to return November 2008.
And he plays chess. He doesn't have an official USCF rating, but he has won all his games against the Houston NASA ground control in previous matches. He played chess as a young man and organized some chess matches informally.
Hal Bogner, Marty Hirsch, and Harlan Lee (from Bellevue WA), designers of ChessMagnetSchool.com, a website that is used by many Washington Elementary kids to learn chess, set up this match. Hal picked the Stevenson Chess team to represent earth since they were the National K-3 champions. Astronaut Greg is playing the white pieces using a Velcro chess board (I guess a magnetic chess set would interfere with delicate electronics on board). You can hear a loud ripping sound as he picks up a piece - then he lets it float in space before setting it down. He sends down his move to Houston ground control, who gives it to Hal, who puts it up on a website at http://uschess.org/nasa2008. Then Stevenson gets involved. The 11 national team members now in 3rd through 5th grades all vote on 3 choices for their response as black. The coaches don't prompt them on their choices - this is the kid's game. As coach, I get to collect their votes and pass the top 4 candidate moves back to Hal, who puts it up on the website and opens up voting to the Earth team. Anyone from Earth (sorry, no extra-terrestrials allowed) can then vote on any of the 4 choices, and the move that gets the most votes is selected as Earth's move.
At this writing (Oct 13th 2008), the game has proceeded as follows:
See USCF site: http://uschess.org/nasa2008 for additional moves as the game progresses.
1. d4 Nf6
2. Nf3 d5
3. Bf4 c5
4. e3 Nc6
5. Bb5 Qa5+
We are facing the London System. Check the website to see subsequent moves to the game. The game proceeds at a slow pace, about 1 move every 48 hours. Greg can only play as his time allows, he has a lot of science experiments he is in charge of. Once, the game was delayed while we waited for the astronauts to boost the space station into a higher orbit to prepare for docking.
But that is not all! Greg decided he would like to talk face to face with his challengers. So we setup a live video link. Bellevue Community College had the equipment and technical personnel to make this happen on our end, and NASA took care of their end. BCC tried to point a receiver dish at the NASA satellite, but it was too low on the horizon and there were too many trees in the way. So Hal had to purchase time on a different satellite that was high enough in the sky for BCC to see, and we bounced the transmission back from earth up to the second satellite, then down to Bellevue. This created about a 5 second delay in the transmission. We had 10 kids from Stevenson get out of school and go to BCC on Thursday, Oct 10th for the live feed. The kids sat on risers on stage with a TV set in front where we could see Greg, and a camera on the kids so Greg could see us.
We had the kids think up a question they wanted to ask Greg, and we had to pass the questions by NASA first to get approved. Each kid had one question, written on a 3x5 card, ready to ask. 10 minutes before we went live, I get a phone call from Houston, saying "Delete question 4". I had to scramble to figure out which question that was, and what was wrong with it. Turned out, it was "Have you ever got sick in space and thrown up?" Typical kid question, but maybe not the public image NASA wanted in their broadcast going out to the world. So I frantically replaced it with another question.
We had Jennie Mayer, the BCC Chess Club director give some introductions to an audience of about 100 consisting of chess parents, media, BCC faculty, students, and other guests. Then Harlan spoke and thanked everyone involved. Elliott Neff introduced the kids to the audience. Art Goss, the BCC astronomy professor had a slide show about the International Space Station, its trajectory over the earth, some stories about astronauts landing off course in Russia and fending off wolves for 24 hours before they were found, etc. It was quite entertaining.
The broadcast started on time at 11:05am. After Houston confirmed they had a connection to the International Space Station, as moderator, I got to start off with "Station, this is the Stevenson Chess team from Bellevue WA, how do you hear us?" Then we waited for 5 seconds of silence, then we hear back from Greg, "I hear you loud and clear". We had only 20 minutes, so after a brief introduction, we got right into the kids questions which they asked themselves:
"My name is Jiayi Hu, I am in 5th grade, and my question is: Do you think there is intelligent life on other planets?" Greg responded that the universe is huge, he can really see that better from space, and that just our galaxy is 100 thousand light years across, and that it would be an enormous waste of space if there wasn't life out there somewhere."
Then the kids asked more questions and got answers:
"How has chess helped you in your career as an astronaut?" "It helped me to think logically and stimulate my mind – doing well in science and math is important in working on the space station – chess is a great game to prepare kids for the future – your generation will take us to Mars and beyond".
"When you are floating in space, have you ever hurt yourself?" "Well, you do have to be careful, there is no gravity here, but heavy things still have mass and you can hurt yourself if you bump into them."
"How do you exercise in space?" "We have exercise equipment like stationary bikes and treadmills, but we need bungee cords to hold us down. We exercise for 2 hours a day to avoid losing muscle and bone mass."
"What landmarks can you see from space?" Greg was over Australia at the time, and he said he can see from one end of the Australian continent to the other. He also can see the Egyptian pyramids, and the Grand Canyon in Arizona really stands out. When he goes over Seattle, he can see all the way up to Alaska, and all the way down to Southern California. The "boot" of Italy really stands out.
"Do you have any food cravings and what is the first thing you want to eat when you return?" "The food is pretty good up here, but we don't have anything cold, so I crave chocolate ice-cream"
"Would a goldfish survive in space?" "Yes, the water is held together with surface tension, and you could even have the top of the bowl open to the air, but if the fish swam out of the water, there would be no gravity to pull him back in."
"What is the craziest thing you have done in space?" "When the Japanese delivered a new module, all 10 astronauts went inside and did flips and acrobatics since there was so much room inside".
My favorite question - "How did you get the OK from your mom to become an astronaut when it is so risky?" (Kids have different worries than adults.) "My parents were very supportive – my mom (I call her Astro-mom) was nervous on blastoff, but is better now – anything worthwhile involves some risk, but it is pretty safe up here."
"What does blast-off feel like, and would you do it again?" "You bet I would, it was a blast, it was not that bad, smoother than I expected, kind of like a Disney ride – it was emotionally overwhelming, after preparing for it all my life"
At the close, as we were signing off, I gave Greg a warning that these kids were good, and they were not going to go easy on him. Then Greg did a couple of flips for us. I then said to the kids off camera, OK, your turn, all of you do a flip now (just kidding). The kids thought this event was awesome - very cool.
The event was taped and will be shown from time to time on NASA TV. Comcast carries NASA TV periodically on channel 76 in the Bellevue area, it may also be available on Direct TV. KOMO Radio was there, the Bellevue Reporter is covering the event, we had media inquires from Washington DC, and even the Dutch Children's newspaper Kidsweek. These Web sites have more information about the event and the game:
NASA site: http://www.nasa.gov/mission_pages/station/expeditions/expedition17/chess_opponents.html
USCF site: http://uschess.org/nasa2008
Video of the event: http://xpstream.winisp.net/exchange/SpaceTalk.wmv
Photos: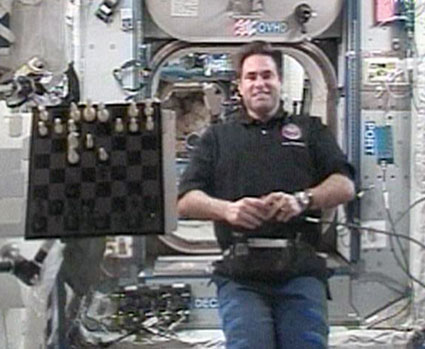 Astronaut Greg Chamitoff takes a break from his activities to chat with his opponents at Stevenson Elementary School in Bellevue WA in the ongoing Earth vs. Space chess match.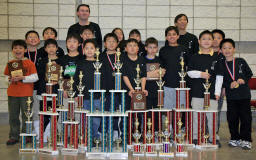 Stevenson team photo at 2008 National Elementary Championships in Pittsburgh, PA.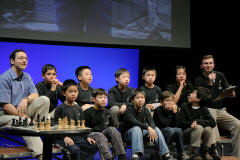 The Stevenson Chess Team with coaches David Hendricks and Elliott Neff talk live with
astronaut Greg Chamitoff. (Photo by Qiang Wang, father of Stevenson player Patrick Wang.)
The Stevenson Elementary Chess Team from Washington, 2008 K-3 National Champions, 2008 K-5 U900 National Champions, participating in the Earth vs. Space Chess Match: (Individual team member pictures by Chris Oquendo, owner of MyChessPhotos.com.)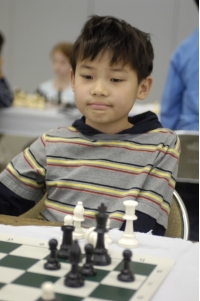 Kevin Ma: 3rd grade

Amith Vanmane: 4th grade

Patrick Wang: 4th grade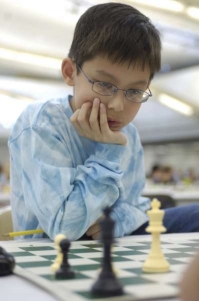 Stephen Embry: 4th grade

Daniel Hua: 4th grade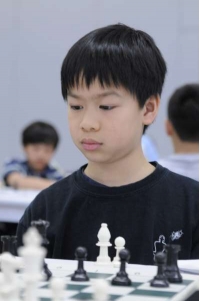 Nathan Chou: 4th grade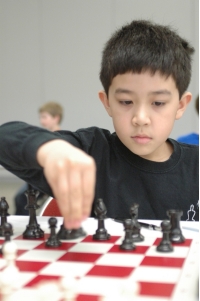 Nikolai Warner: 4th grade

Eric Chen: 5th grade

Kevin Qiu: 5th grade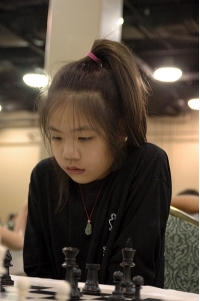 Grace Sun: 5th grade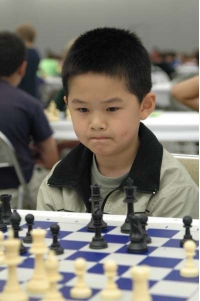 Jiayi Hu: 5th grade
In addition, other Stevenson players who were part of the National Team but have graduated to middle school are: Leanne Hwa, Bryan Yu, Brandon Wang, Allen Yuan, and Robert Zhang. Also Kindergartner Jeffrey Yan was at Nationals.