In Memoriam - Buz Eddy, 1940-2016 - Russell Miller reports, "My brother in law, Burrard 'Buz' Wayne Eddy, died on March 4 in Lynnwood, Wash. He was born on Jan. 2, 1940. He was a very active chess player and organizer in late 1950s and 1960s in Washington State, an editor of WASHINGTON CHESS LETTER, tournament director for the Washington Chess Federation, and assistant TD for the 1966 U.S. Open in Seattle." (Eddy edited WCL from June 1959 to May 1960, and Northwest Chess Letter from May 1966 to October 1966.) Photo: Eddy at the chessboard in March 1964, courtesy of Russell Miller. Memorial Services were held on Saturday, March 26, at Maplewood Presbyterian Church in Edmonds, WA. Also see the obituary posted on the Bonney-Watson funeral homes website.
Obituary supplied by Russell Miller. Photo enhanced by Jeff Roland.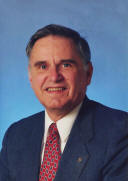 Burrard (Buz) Wayne Eddy was born on January 2, 1940 in Tacoma, WA to Robert & Frances Eddy. He and his sister, Kathryn, spent a number of years living on the family golf course, Foster Golf Links, in Tukwila. The course was built by Buz's grandfather, George Eddy. In 1951, the golf course was sold and the family moved to West Seattle, where they lived until the early sixties, then moving to Kent's East Hill.
Buz enlisted in the U.S. Army in 1960. After basic training at Fort Ord, Calif., and specialist training in computers at Fort Monmouth, N.J., he spent his service years at Fort Huachuca, Ariz. After getting out of the service, Buz worked for Boeing and Seattle First National Bank as a computer specialist. He went back to school and earned a Bachelor's degree in Business Administration from the University of Washington in 1971. He became a CPA in 1974 and worked in that field as a non-profit specialist until his retirement in 2009. He shared his talents with students in the Edmonds School District, both being involved in Junior Achievement and in Evening Academy. He also tutored individual elementary school students.
Buz met his future wife, Sharon Owens, in 1972. They were married on June 22, 1973. A son, Douglas, was born to them in 1978 but did not survive. Stephen followed in 1979 and Laurel in 1981. Buz enjoyed his children and spent much time with them as they were growing up. Hiking, board games, golf and Seattle Mariner games were some of the activities he shared with them.
Buz was heavily involved in the Northwest chess scene from his time in high school until the seventies. He was a tournament director and editor of Northwest Chess magazine during that time. He became involved in the Diplomacy board game community, both locally and nationally. He joined both Rotary and Kiwanis, always wanting to give back. He was a member of Maplewood Presbyterian Church for 42 years, serving both on the Session and the Board of Deacons. He was involved in a local community theatre group, King's Players. He sang in the church choir, the Windjammers Barbershop chorus and in the Sno-King Community Chorale. He had a zany sense of humor and was very good with shooting off one-liners in almost all situations. He was an inveterate picture taker and had upwards of forty photo albums to show for it.
Buz received an Alzheimer's diagnosis in 2008 and walked that difficult pathway with a good deal of grace for the rest of his life. He was cared for at home until December of 2015. He then moved to Aegis Living of Lynnwood, where he died on March 4, 2016.
Buz is survived by his wife of 43 years, Sharon, his son, Stephen, and his daughter, Laurel, his sister Kathryn Miller (Russell), brothers-in-law Michael Owens (Randi) and Daniel Owens (Therese), sister-in-law Mary Owens, nieces Ielleen Miller and Kelli Peterson (Gregg), nephews James Owens and Dominique Owens. He was predeceased by his son, Douglas.
Buz is remembered for his deep and abiding love for his wife and his commitment to his family, his community and his faith. He will be greatly missed by his family and by many other people.