NWC: Home > Articles > Events > 2010 > WA Hoyt
2010 Washington Hoyt PTA Challenge
The Washington Hoyt PTA Challenge was held at Mason Middle School. There were 128 players in all, 7 in the K section, 41 in the 1-3 U800 section, 52 in the 4-6 Section, 24 in the 1-6 Open section and 4 in the 7-Adult Open section.
The winners were:
Individual:
K section; 1st Rico Ibarra 4.5, 2nd Matt Saffari 4.0
1-3 U800 section 1st Dane Helle 5-0, 2nd-6th Evan Smith, Raghav, Agrawal, Joey Manza, Madison Howell, Toren Herrick 4-1
4-6 U800 section 1st Nicolas Bodge 5-0, 2nd-8th Nathan Samanmit, Pat Mooney, Dante Springsteen, Nathan Ossiander, Tyler Johnson, Phillip Springsteen, Landon Ebarb 4-1
1-6 Open section 1st Noah Fields 5-0, 2nd-3rd Coley Fannin and Logan Howell 4-0
7-Adult section 1st-2nd Kuljit Bains and Trey Ascheman 5-0
Teams:
K section, 1ST St. Charles Borromeo
1-3 U800 section 1st St. Charles Borromeo
4-6 section 1st Charles Wright
1-6 open section 1st Charles Wright
TD, David Hendricks, Assistant TD Gary Dorfner.
Photos of some of the winners (and the playing site):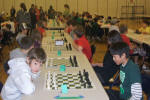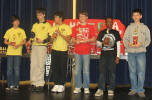 2010 Charles Wright Chess Challenge
The Charles Wright Chess Challenge was held on Feb. 27, 2010. There were 167 players in all, 26 in the K-1 section, 51 in the 2-3 section, 84 in the 4-6 section, 6 in the 7-12 section.
The winners were:
K-1 section 1st Raul Dominguiano 5-0, 2nd-3rd Aryan Deshpande, Rico Ibarra, Ramiro Ibarro 4-1
2-3 section 1st Dawson Damish 5-0, 2nd-10th Arjun Thomas, Katherine Jones, Michael Kim, Joey Manza, Daniel Hoel, Emily Saletan, Erica Julian, Dave Dearth Samuel Metcalfe 4-1
4-6 section 1st Noah Fields and David Lindgren 5-0, 2nd Coley Fannin 4.5
7-12 section 1st Todd Damish 4-0, 2nd-4th Sanjay Agrawal, B.J. Hanson, Trey Ascheman, Jeffery Ludwig 2-0.
TD, Elliott Neff.
2010 High School State Team Championship
There were 30 teams from 27 schools in all.
The winners were:
1st Lakeside (A) 20.5
Michael Omori
Darren Wu
Petter Lessler
Ethan Gottlieb
David Inglis
2nd Interlake (A) 19
Michael Lee
Alex Guo
David Golub
Drew Dawson
Abinav Viswanathan
TD, Paul Zurybida
In the JV Section there were 79 players in all.
The winners were:
1st John Dennison 5-0
2nd Puneet Dewan and Tal Levy 4.5 each
TD, Dave Ellinger.