Photos of January 8 opening celebration by Duane Polich
See the complete story about the exhibition.
One of the most powerful pieces of artwork that will be hanging on the walls of the Downtown Seattle Art Museum for the month of January is not done by a professional artist. It is the work of Sam Horowitz, a nine-year-old boy who has submitted it for the Chess Mates Foundation "Art in Chess and Chess in Art" children's art exhibition. This artwork will stop you cold and force you to look hard. It is a black and white collage that is both naïve and sophisticated and more than a little controversial. It is titled, "Play for Peace-Peace by Piece."
Left: Sam Horowitz standing in front of his art as displayed at the Seattle Art Museum.
Right: Close-up of Sam's art. (Click on images to enlarge.)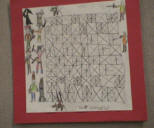 Some other works of art displayed as part of the exhibition.