For NWC magazine contents and PDF files, see the magazine back issues page.
More old news will be added as the year progresses. Also see the home page.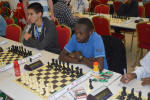 Sluggers/Rain Update! The Seattle Sluggers, formerly one of the teams in the U.S. Chess League, became part of the PRO Chess League in January 2017 - see U.S. Chess League website. The Sluggers conducted a fundraiser to help cover the cost of the team's free agent GMs. See the team's GoFundMe page. Also, here is a season preview article written about the Sluggers on the chess.com news page. Portland also has a team in the PRO Chess League, named the Rain. NM Jason Cigan is on the Portland team; click the link to see his Facebook news feed.
Competition for both teams began on Wednesday 1/11. Matches took place on chess.com, with the Sluggers playing at the Orlov Chess Academy in Redmond, Washington. Matches had a time control of G/15 with a 2-second increment (4 games per player).
Sluggers match results: lost 5-11 to San Diego Surfers; won 12.5-3.5 against the Rain; lost a "nail-biter" against Dallas, 7.5-8.5; won against their old archrivals, the San Francisco Mechanics, by a score of 8.5-7.5; won against the Dublin Desperadoes from Ireland, 10-6; lost a tough match to the very strong Rio Grande (Texas) team by a score of 6.5-9.5; lost to the Las Vegas Desert Rats by a score of 7-9. After week 7, the team finished with 3 wins and 4 losses, tied with Minnesota, San Francisco, and Pittsburgh; see the league standings.
Benjamin Mukumbya (photo above left) is the newest member of the Seattle Sluggers chess team! Benjamin is a strong candidate master from Uganda who was featured in the recent Disney film Queen of Katwe. He recently graduated from high school and is visiting Seattle for six months pursuing the chess master title and studying for his college entrance exams. Benjamin hopes to attend college here in the states in order to become a neurosurgeon. Welcome, Benjamin!
In Memoriam - Kornelijs (Neil) Dale, 1933-2016, of Portland, Oregon. See the blog post and the February magazine below.
February magazine! The February issue of Northwest Chess was mailed on 1/25. It's a 32-page issue with "From the Editor's Desk" by Jeffrey Roland, "A Remembrance of Kornelijs (Neil) Dale" by Brian Berger, "December 2016 PCC Quads 45" by Brian Berger, "Film Review: Queen to Play" by Mike Hasuike, "December 2016 PCC Game 60" by Brian Berger, "Gavin Zhang Wins in Las Vegas" by Casey Bush, "Tiglon, Raptis, and Collyer win Second Seattle Masters" by Josh Sinanan, "Northwest Chess Open" by Duane Polich, "FM Bryce Tiglon wins Third Seattle Masters" by Josh Sinanan, "2016 Washington Game/60 Championship" by Josh Sinanan, and a back-cover photo of "Nick Raptis in victory pose at Northwest Chess Open" by Josh Sinanan. Cover: Various photos of Neil Dale.
Recognition! On Monday, Jan. 30, the King County Council recognized Naomi Bashkansky for winning the 2016 World School Chess Championship in the Girls Under 13 category, held Dec. 2–12 in Sochi, Russia. (See 2016 news page for the original story.)
January magazine! The January issue of Northwest Chess was mailed. It's a 32-page issue with "Naomi Bashkansky takes first at World Schools Chess Championship Girls Under 13" by Alexander Kaplunov, "Fall Quarter at the Seattle Chess Club" by Carol and Fred Kleist, "Move Over Steinitz" by FM David Lucky, "5th Annual Clackamas K-12 Open" by Ed Addis, "November 2016 PCC Quads" by Brian Berger, "2016 Turkey Shoot Results" by Adam Porth, "Breckenridge Rated Simul" by Brian Berger, Lennart Bjorksten, and Steven Breckenridge, "Fall Classic in Eugene" by Owen McCoy, "Explosive Growth Evident" by James Stripes, "November 2016 PCC Game 60" by Brian Berger, "Aaron Grabinsky Games" by Aaron Grabinsky, "2016 Washington State Blitz/Bughouse Championships" by Josh Sinanan, "Bethel December Quads" by Owen McCoy, "Tiglon, Raptis, and Collyer win Second Seattle Masters" by Josh Sinanan, "Portland Winter Open" by Brian Berger, "Washington Class Championship" by Gary Dorfner and Ralph Dubisch, "PRO Chess League" by Josh Sinanan and Jason Cigan, and a back-cover photo of "Aaron Fischer and George Oliver at SCC Extravaganza" by Matthew Tedesco. Cover: Naomi Bashkansky, a scholastic world champion, by Guy Bashkansky. (Also see 2016 news.)